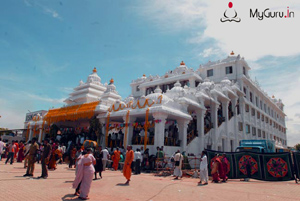 ISKCON Temple is located in the Injambakkam region in Thyagaray Nagar of Chennai.
The temple is one of the many popular worshipping places established by the ISKCON society in the region of India.
It is a blend of tradition and modernity to give the artistic style as well as the best of latest scientific technology.
The ISKCON Temple at Chennai like other ISKCON centres is the axis point from where the teachings of Lord Sri Krishna Chaitanya are spread.
The deities worshipped in the temple include those of Rukmini and Krishna.
The image of deity Satyabhama, one of the eight wives of Krishna, is also housed in the temple premises.
Other deities worshipped in the temple include Jagannath, Baladeva, Subhadra and Gaura-Nitai. ISKCON Chennai also promotes and protects traditional art and craft of South India.